All About the New Apple iOS 9
Last updated 29 Sep 2015 | Article by :

Priceza Singapore


Considering to buy an iOS compatible device like the iPhones, iPads, or the iPods? The update of the iOS 8 to the iOS 9 should help you decide! Apple made the announcement last week at the WWDC 2015 Expo about the much anticipated release of the iOS 9. Similarly to previous years, Apple have been announcing their latest iOS around June. With strong innovations made by Andriod, the iOS 9 sure needs to step up its game. Here are the 7 updates made by Apple for the new iOS 9 that Priceza thinks you should know!

Battery Life Enhancements

Yes, finally. One of the main concerns with mobile devices nowadays are probably the battery life. With the options of the power banks, or the car charger, it still doesn't really answer fix the main problem. Apple is really thinking about this issue and try to find alternative approach to extend the battery life. The iOS 9 offers the "Low Power Mode," which supposedly add up to 1 hour of battery life to your beloved iPhone from a single charge. Once your iPhone reaches the 20% and 10% of its battery life, it will prompt you to activate the Low Power Mode. So what's going on when you turn the Low Power Mode? Background app refresh and the push mail are turned off to save the battery. However the networking speed will likely to be unaffected. Hooray!


Improved and More Proactive Siri
Siri has been around for a few years now on being the iOS device owner's assistant. Apple have learnt the ways to make Siri much more efficient and useful. Other than being the occasional entertainment with its incorrect pronunciation of names, or causing your constant frustration from misunderstanding of the commands, Siri is now more reliable than ever before. Apple claims that it is now 40% more accurate and faster from the iOS 8 version of Siri. Fetching for photos can now be done through the help of this digital assistant. You no longer have to go through your long list of images to find that photo from the trip you made a few months ago. Siri also analyze your routine and respond to it. Let's say you run every morning. The iOS 9 Siri will launch the music app once you have your headphone plugged into your iPhone! Morning made. Another notable feature is that Siri automatically updates events and meetings into the calendar when sent through messages and emails.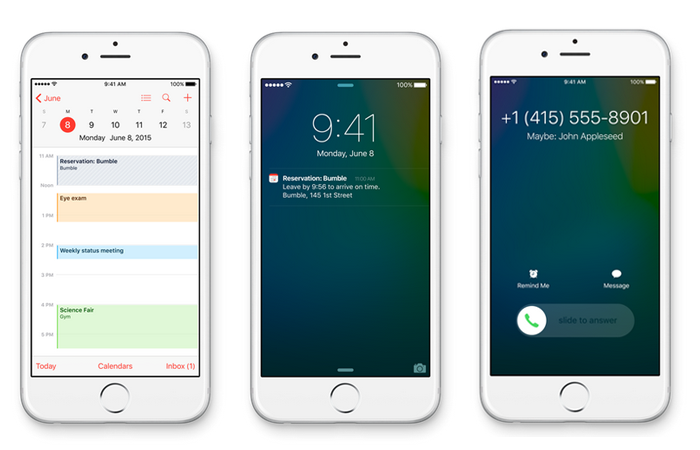 Taken from Apple.com
New and improved Siri on demo on the iPhone 6
Improved Search
Also seen in iOS 8, searching for things on your iPhone 6 or your iPad and iPad Air became much easier. This year, Apple is also making further improvements based upon the unified approach to search. You can now search for pretty much anything with the new update. You can also directly play videos from the search results as well.
Multitasking
One of the main things that the iPad has been behind is multitasking. Other tablets by Microsoft or Samsung have adopted the multitasking interphase for quite some time. Finally, iPad now supports this feature. You will be able to use the SlideOver feature on the iPad, iPad Air, and iPad Mini 2 or newer. You can now enjoy watching your favorite movie while also checking emails for work at the same time. Although, we cannot guarantee the productivity level in this circumstance.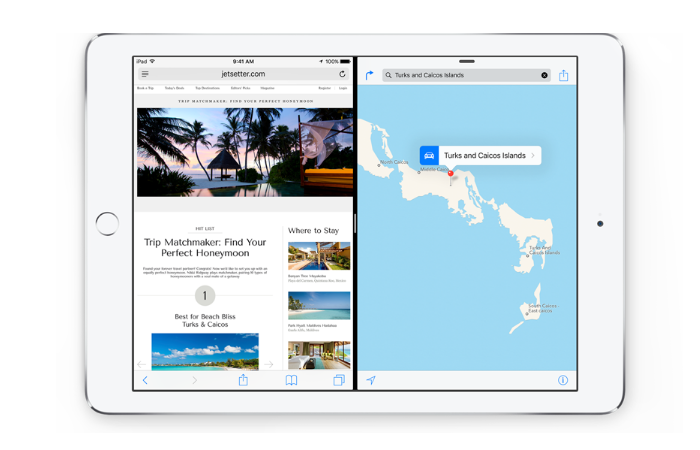 Taken from Apple.com



For now, we know that multi-tasking is only available for iPad devices.
All-new News App
The iOS 9 contains new preloaded apps, News. This is the Apple's version of personalized news board. You can select your favorite topics and sources for the updates you want to read. It also comes with an Explore mode, which allows the reader to discover more suggested contents to read based on your reading.
Note-taking
We all take notes on our iPhones and iPads. Whether it is a self-reminder to pack your toothbrush for the road trip, or a long list of groceries you do not want to forget to buy for your wife, have one point in time been listed in the good old Notes application. Although handy, it does not work to its potential. With the iOS 9, it has a formatting toolbar for texts. More importantly, it has the flexibility of a checklist! You can now tick each of the tasks you have completed. Doodling is also supported.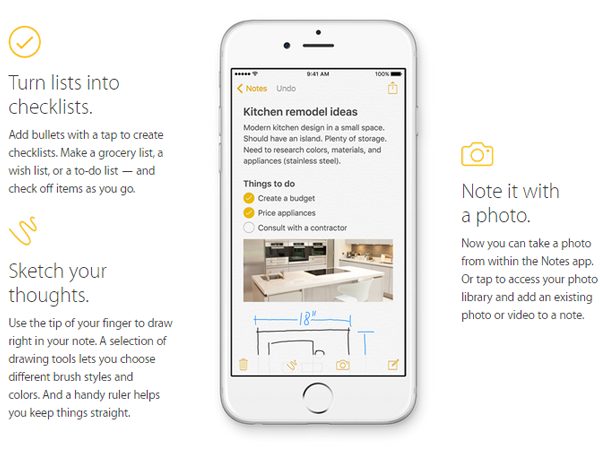 Settings
Have you ever get lost when trying to find the setting? You have scrolled through a few times and still couldn't find the right setting for what you want. With the new Apple's new iOS 9, you can now search for the settings! This will save you time and definitely prevent any frustration.
Which device will be compatible with the iOS 9 update?
Most iPhone devices can be updated to the new operating system which includes: iPhone 4s, iPhone 5, iPhone 5c, iPhone 5s, iPhone 6, iPhone 6 Plus. As for the iPad, the update will be available for iPad Air, iPad Air 2, iPad 2, iPad 3rd generation, iPad 4th generation, iPad mini, iPad mini 2, and iPad mini 3. The iPod though 5th generation will also benefit from the iOS update.
Looks great! When will the iOS 9 release?

Apple says it will be coming in the fall. From history, iOS 8 was released last September. Priceza predicted that it will probably fall into the same pattern. We also believe that it will be released with the possible announcement of the iPhone 6s.

In the mean time, check out these recommended products by Priceza that will be compatible for the iOS 9!
iOS 9 Compatible iPhones
iOS 9 Compatible iPads
iOS 9 Compatible iPod Touch
TM + © 2015 Priceza. All Rights Reserved.