Nike Roshe Run - How To Spot a Fake.
Last updated 29 Sep 2015 | Article by :

Priceza Singapore
With the rise in popularity over the past few years,

Nike Roshe Run

and

Nike Roshe One

have can be spotted everywhere. It has becoming one of the most popular shoes by Nike. Why is it so popular? It is because the design is versatile and can be easily styled with almost any outfit. People are looking for new designs of the Nike Roshe through internet. Without knowing, many have ended up buying a fake Nike Roshe. Here are simple steps for you to follow so that you will not be fooled when buying a Roshe sneakers!

Taken from Snapguide.com

First things first, the "tongue strip"

The authentic tongue strip should have a removable squared Nike Swoosh embroidered piece.
The fake one will have the Nike Swoosh embroidered directly onto it, rather than being attached separately.

The authentic Nike sneakers will have a longer heel strap. When you insert your finger, there should be enough room for you to hold.
The fake Roshe Run / Roshe One will have a much shorter heel strap. When you try to put your finger through the loop, it will be almost too small for your finger.

Material of the Nike Swoosh

The authentic Nike logo on the Roshe comes in a matte finish. However this might not be the case in the future. BUT, for now this is what it is.
In contrast, the fake one has a shiny and glossy finish.

The real one has a flusher heel cup from top to bottom. The slope is gradual and smooth when view from the side.
The fake one is slightly overhang. There seems to be a big space. The slope is also more extreme than the original.

Taken from Snapguide.com

Notice that the gap is quite large. It should flush pretty closely.

Unofficial Color Variations

Because there are so many choices in colors and patterns for the Roshe, you might not be able to keep track of the official releases. One of the ways to check for the authentic color variations is to check with Nike website or go to websites like TeamRoshe.com to check the model that you want against the database. If the color that you are looking at does not exist in the database, it is likely that it is a fake. Don't just assume that it's a limited edition, that's why you cannot find the source. You might end up paying for something that is just a total made-up. If you are not sure, do not buy.

Here's an example of some of the shoes available in the database at

TeamRoshe.com

Design That Simply Does Not Look Right

Here's a little history behind the design:
The person behind
Nike Roshe Run
is Dylan Raash. The name "Roshe" is actually from a Zen master, Roshi. He wanted the design of Roshe shoes to be in the concept pf Zen, which includes simplicity. The idea behind it was to remove anything unnecessary in a regular running shoe. One he exclude all the excess parts, the
Nike Roshe
has a simple and stylish contour. The process of manufacturing the shoe is also kept to minimal. Instead of having many parts such as insole and outsole, Raash have eliminated this process. He designed the sole so that it is done with a one-piece injection, making the process "green" as well as "simple." It is a design that has never been done, and is very unique to this shoe. Although the design is simple, it actually opens up to all kinds of possibilities that can be done in terms of colors, patterns, and material. Not only that it allows the designer to be creative with the design, it allows the person who wears the shoe to be creative too! With the Nike Roshe Run, you can wear the shoe either with the socks on, or without. Moreover, The design of the shoe is simple enough to be appropriate for any occasion such as wearing it to work, running, walking, travelling, or just chilling with your crew! As you can see, the design is the core of the Roshe Runs, and should remain that way.
Nike box labels are usually laid out on the bottom left. It should include information such as the Nike logo, detailing style (Nike Roshe Run, Nike Roshe Run Premium, Nike Roshe Run Trail, etc.), and colorway. If you see that the label's description does not match with the product inside, you should not buy, and if you have bought it, you should request for a return or exchange.
Fake boxes sometimes have labels stuck slightly off centered or towards the bottom right.
Almost always, the style number of the Roshe Run and Roshe One is 9 digits long. The digits should also match from the box and the tag that is located within the shoe.
Most of the time, you do get what you paid for. And if the price seems too good to be true, it most likely is. This is a subjective matter. It could be a great deal that you are getting. But again, if you are not sure and if you are buying online from a non-reputable merchant or individual, it is better not to jeopardize your money. Nike Roshe Run Singapore costs around $100-$150. This however varies from design to design.
The quality of the material and the craftsmanship is very different when comparing the authentic product to the fake. Check the stitches on the Nike Swoosh. It should be carefully and neatly stitched along the edge. Also, make sure that the glue is coming off the edges. This is a sign of a poor standard, which is unlikely of an authentic Nike Roshe Run.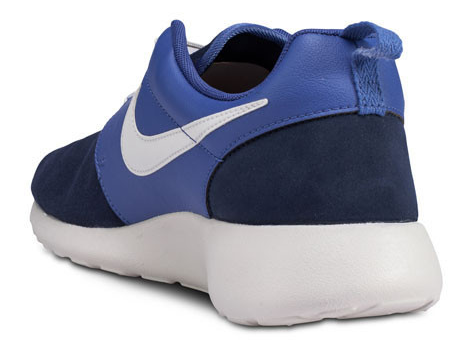 Notice that the stitches are very neat and evenly spaced. There's no extra glue coming off from the sides.
Authentic Nike shoes should not have a sign of poor craftmanship.
The sole patterns on the Nike Roshe sneakers are very distinctive. The edges of the patterns are very crisp and clean. Check that they arrive with a high quality sole, and also not worn out if you bought it in a new condition. Fake Nike Roshe often has fuzzy edges in the sole patterns.
---
Here Are Some of The Most Popular Nike Roshe Run / Nike Roshe One sneakers!
Just like anything else, you don't want to fall behind in the latest trends. Priceza has a few recommendations for the trending sneakers right now! You can also be sure that these Nike Roshe Runs are authentic. Let's take a look!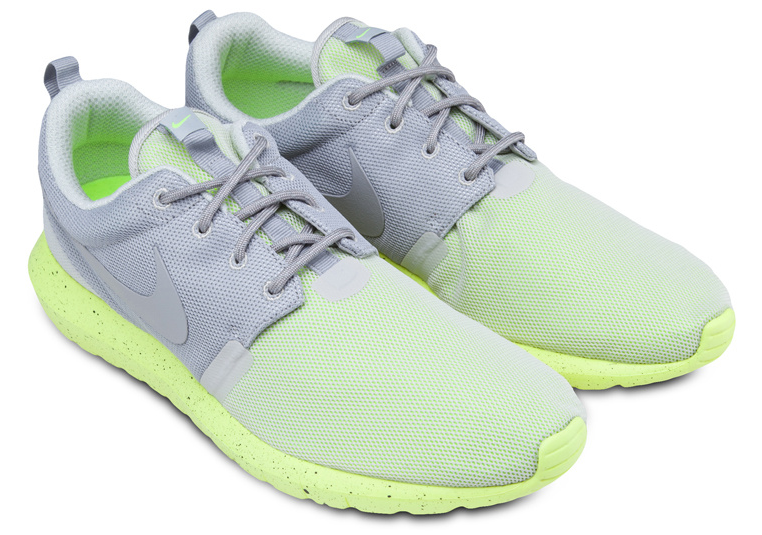 1.
Nike Roshe One Sneakers in Neon and Silver (Women's)
If you are one of those who loves to style your Roshe with an
achromatic apparel
, consider this neon coloured edition! The shoe features a silver mesh overlay and neon lemon green toe and midsole. The silver overlay blends the shoe with your achromatic theme, while giving a little character through the neon details. Talking about details, the midsole also has colour specks along all sides, making it quite a statement pair. This is definitely a way to really give your shoe a focus, while still blending in with what you wear.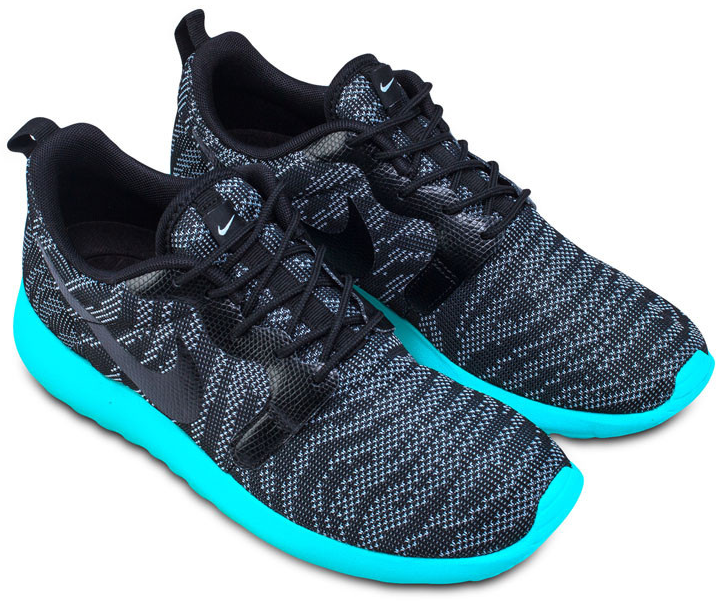 2.

Nike Roshe One Jacquard (Women's)
Get on the wild side! While staying minimal to the silhouette, this Jacquard edition is a play on the pattern and colour. The midsole features an eye-catching bright turquoise. The toe and overlay is made with jacquard inspired patterned mesh. Along the edges if the lacing, the "animal" theme is carried out with a leather piece to give this sneakers the ultimate attitude!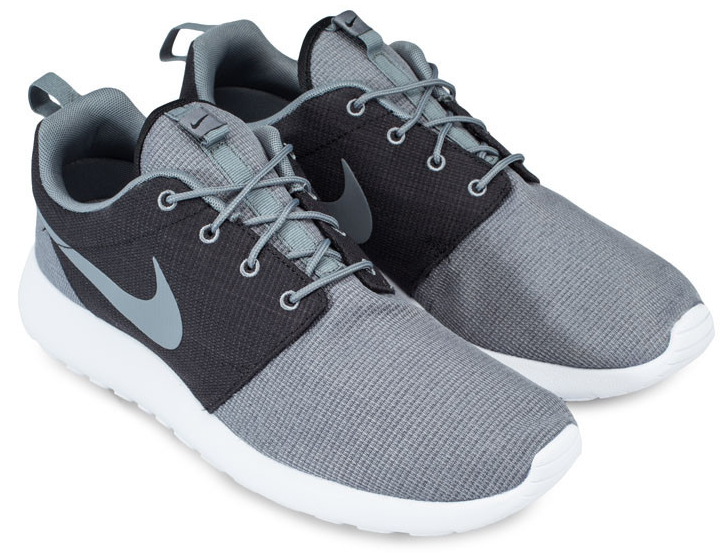 3.

Nike Roshe Run in Grey and Black (Men's)
This classic colour combination is perfect for any style. Whether if you are going out with your friends, or going with something more casual at work, this Roshe Run is great for any outfit. We recommend wearing a simple
white-tee
with a great pair of
denim
. Fold your jeans up a bit to show off your Nike Roshe and you're good to go. For something a little more edgy, how about a nice
long sleeves
and a pair of
slim-fit chino
or
working pants
. Don't forget to finish off the look with this ultra-cool Nike Roshe shoes!
4.

Nike Roshe One Premium in Blue (Men's)
This Nike Roshe is a little different than other ones in the market. Instead of being just a regular mesh material, this Roshe One is constructed with suede. The material gives the shoe a little bit more "formal" look. It does not seem as "sporty" as the other styles out there. The design is very versatile, perfect to be worn with or without
socks
!
---
How To Take Care of Your Nike Shoes
If you are thinking about buying a Nike Roshe Run / Nike Roshe Run, you should learn more about the steps that are necessary to keep your shoes clean.
1. If you see dirt on your shoe, you should start cleaning as soon as possible. To do so, you should start removing the excess dirt by brushing off with a
soft brush
. These brushes can be an old
toothbrush
, or more specifically a
shoe brush
. Brushes are great especially for outsoles.
2. Prepare a cleaning solution. This can be just a warm water if you do not have any kind of cleaning agent. We recommend mixing a small amount of
detergent
or
soap
to create a mild soapy mixture. This will gently help removing dirt off the fabric or leather.
3. Apply a small amount of pre-mixed soap solution that you have created earlier to a soft cloth,
sponge
, or a clean soft brush. Then, slowly and gently brush and clean the affected areas. Do not rub or brush too hard, as this can create scratces, removal of colours, or the soften of leather.
4. After the dirt is removed, you should apply a small amount of clean warm water to another clean sponge or clean soft cloth. Then, again, gently remove any left over detergent previously applied. You don't want to leave the detergent on, as it will get caked up or create reactions to the surface that will discolourate the shoe.
5. We recommend that the shoe get air dried at room temperature. You should not leave your shoes out in the sun or apply it with hot air. Extreme heat can ruin the shoes. Not only that your shoes will discolourate, the material can lose flexibility, especially if it is leather or plastic-like material. Therefore, you should give it time to dry. You also should not leave your saturated shoe back in the box or in the
shoe rack
right away. Your shoes can become moldy or result in shoe odor.
You should repeat these steps to try to remove persistent stains. You need to be patient, and do not expect that all the stains will be removed in one go. Also, you should not try other alternative cleaning methods such as washing your shoes in a
washing machine
and dying them in a dryer. Most importantly, you should not use strong products such as bleach as your shoes can be ruined forever. We recommend that you take five to ten minutes to clean your shoes constantly. This will make sure that your shoes remain fresh and clean. If you leave stains on for too long, the stains can get caked, and eventually becomes permanant.
As you can see, there are so many possibilities to style a Nike Roshe due to its versatility in design. But the most important thing is that you wear what is most comfortable, and that you feel great about it! Also, we hope that you are now more familiar with the history of Nike Roshe sneakers, and how to spot an authentic pair from a replica. We want to make sure that you are choosing the style that works for you, but most importantly, an authentic Nike product. You can find all the authentic Nike products here at Priceza!
Women's styling 1
Women's styling 2
Men's styling 1
Men's styling 2
Women's Nike Roshe Run
Men's Nike Roshe Run
Women's Nike Air Max
Men's Nike Air Max
TM + © 2015 Priceza. All Rights Reserved.